Investing in Properties
Investing made easier
WE BUY AND EDUCATE REAL ESTATE PURCHASERS ON HOW THEY CAN BUY UNLIMITED PROPERTIES BELOW MARKET VALUE, SAVE TENS OF THOUSANDS OF DOLLARS AND RETIRE WITHIN 10 YEARS
Investing in Properties (IIP) is a unique property investment business which offers many of the traditional services provided by a real estate advocacy business. In addition, however, IIP offers its clients a unique service that guarantees they can purchase a property in a blue-chip area with a minimum of 5% discount below market value. This means IIP clients save tens of thousands of dollars when they purchase a property.
In two recent examples IIP clients purchased apartments in Carnegie and saved a combined total of $190,000 below the Sworn Independent Valuations. This was a saving of $27,000 (on average) for each client and was 5.4% below the valuation figure. In Maidstone clients purchased 6 townhouses and collectively saved a total of $336,025 which was a saving of $50,000 (on average) for each client, or 6.79% below market value.
IIP is headed up by Mark Reister. He is a passionate and expert property investor who loves everything about real estate. For 23 years (from 1993 to 2016) he worked as a real estate agent helping sellers achieve the best price possible for their home. He has also owned his own real estate office during this time. Mark has worked with all types of Vendors and property Buyers, but his real passion is creating wealth through investment properties for himself and for others.
Back in 2002 Mark decided he wanted to personally start investing in properties. Because of his extensive real estate knowledge, he knew he could find properties and not overpay but he wanted to find a system that would allow him to buy properties in blue-chip areas and pay below market price. He has developed a system that allows him to do just that!
Mark describes the system as incredibly simple and straightforward. "It's the exact same principle we are all familiar and comfortable with whenever we buy any product in bulk. The more we buy the cheaper the item becomes on a per unit basis. This successful and unique system is perfect because it guarantees me the results and it can be repeated time and again".

The problem was Mark didn't want to buy a large number of properties in one transaction and face the risk of overextending himself. So, he formed Buying Groups with friends and family. Buyers in these Groups purchase their own individual property in their name or chosen structure. The Group is simply using its combined negotiating power to secure properties at discounted prices. Applying a similar strategy, Mark also negotiates discounted fees for his Buying Group, this includes conveyancing fees, property management fees and lower interest rates from financial lenders.
With his Buying Group Mark purchased his first investment properties in Cheltenham. Since then, he has gone on to form numerous Buying Groups (with investors and home buyers) and has bought discounted properties in suburbs such as Carlton, St. Kilda, Abbotsford, Carnegie, Maidstone etc.
In 2018 Mark decided that he would now like to help real estate buyers find their ideal property and create wealth through property investing. Mark is still forming Buying Groups. The goal with each Group is to buy properties with a minimum 5% discount below market value. Using his unique strategies Mark saves his clients tens of thousands of dollars.
The properties that Mark selects must meet a rigorous list of criteria and all the investment properties must have a positive cashflow which will enable investors to grow a strong property portfolio.
IIP also run seminars and webinars to educate their clients on how to:
Form their own Buying Groups
Purchase properties below market value
Buy an unlimited number of investment properties
Minimise their taxes
Increase their borrowing capacity
Build more wealth and equity
Create a strong and positive investment portfolio
Create more financial security
Retire within 10 years with a passive income.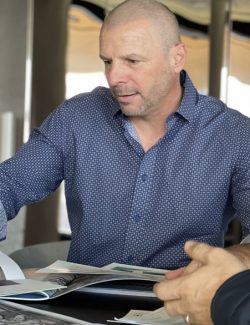 Mark has also written 3 books about property investing, which have all appeared on Amazon's best sellers list, is a fully licensed Real Estate Agent, member of the REIV, and is in the top 1% of property investors in Australia.
Mark's books are:
How to Buy Unlimited Investment Properties
Buy Unlimited Properties and Retire in 10 years
The ultimate wealth guide for real estate agents and anyone else interested in property investment
If you are thinking about buying a property to live in or as an investment, or you would like to grow your real estate portfolio, please contact IIP to discuss your requirements, you won't be disappointed.
PH: 1800 952 177
E: [email protected]
Find out more aboutInvesting in Properties